NMRA- Official Sponsor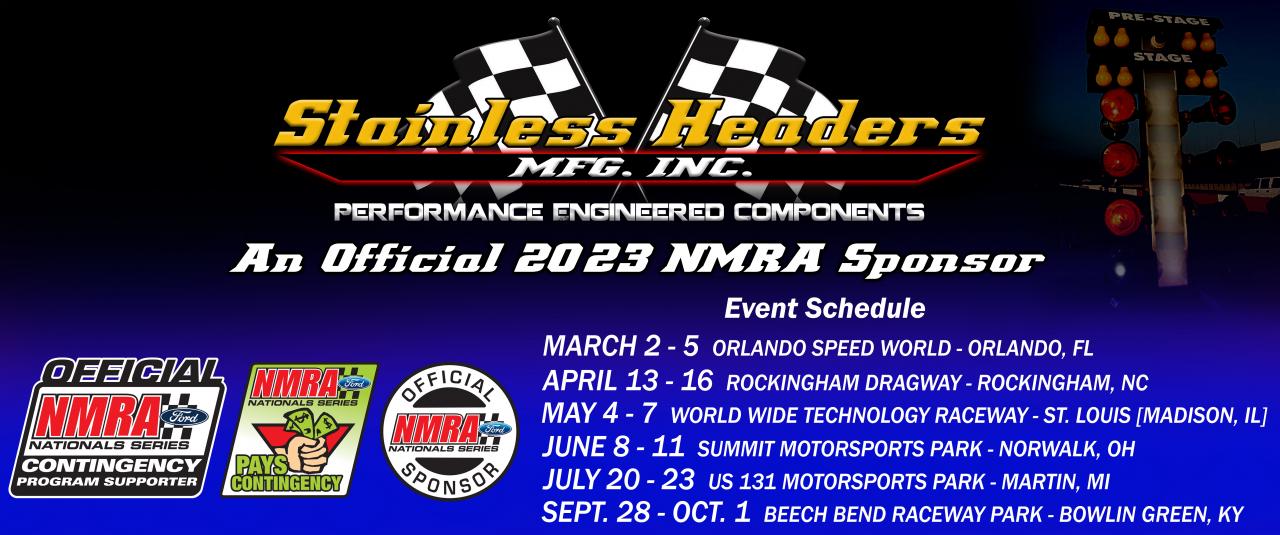 Official NMRA Series and Contingency Sponsor
This year- for the 2023 season, we are an OFFICIAL NMRA Series sponsor! From the NMRA Spring Break Shootout in March, through the 25th Anniversary NMRA World Finals + Holley Intergalactic Ford Festival in September, we will be offering sponsorship to the series, as well as full contingency offerings for racers in ALL classes.
Drag Racing
The NMRA Ford Nationals was built on drag racing from its highly competitive heads-up categories to the wide-variety of index classes to fit your vehicle, NMRA is home to the most exhilarating championship drag racing with cars just like your Mustang or Ford. Certain events feature specialty shootouts that capture exciting trends, including the brand-new 8.60 Street Race heads-up/index. True Street is the longest running and largest street car class in the history of drag racing and it also the easiest category to enter at an NMRA event.
The NMRA Contingency Program is the LARGEST CASH PROGRAM in Ford drag racing, with more than 80 participating brands, 180 different products and $4 Million in total posted cash.
Contingency Offerings:
Classes eligible for Stainless Headers Mfg (SHM) contingency are:
Renegade
Limited Street
8.60 Street Race
Coyote Stock
Factory Stock
Modular Muscle
Super Stang
Open Comp
Truck & Lightning
Ford Muscle
Competitors must display 2x SHM decals on their vehicle and be running one or more of the approved contingency products show below. For more information, visit www.nmradigital.com.
Current Contingency Payouts are listed on www.nmradigital.com.
Contingency Approved Product Offerings:
Complete Header Build Kits

All materials approved
Formed or Merge Collector Kits
Naturally Aspirated, Fender Exit, Zoomie, and Turbo Header kits all approved
**Must have SHM brand tag installed in visible location for official identification

Merge Collectors

Any size, material, or configuration
**Must have SHM brand tag in visible location for official identification

Turbo Log Headers

Any design or model listed on our website or Sales Tech approved
**Must have branded tag visible for official identification

Under Car Exhaust Kits

Standard or Customized under-car kits
X-pipe assemblies
Round and Oval approved
Must install SHM brand tag for approval